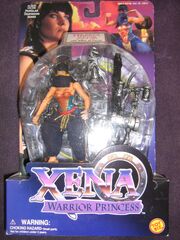 Harem Xena with Pillar of Power
Edit
From Wave Two of the ToyBiz Xena: Warrior Princess 6 inch action figure line. This is Xena as seen in "Cradle of Hope" when she must disguise herself as a Harem dancer.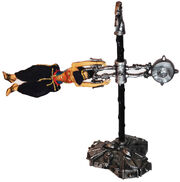 This figure comes with a large "Pillar of Power" accessory you need to assemble. Xena's wrists clip into cuffs on a "spinner." The spinner is threaded on to a pole which is supported by a base with a suction cup on the bottom. If you wind the spinner to the top of the pole and let it go, Xena spins down to deliver flying kicks to her enemy. Though the backboard for Wave Two shows that you can remove Xena's veil, the actual figure had the veil glued to the face.
Ad blocker interference detected!
Wikia is a free-to-use site that makes money from advertising. We have a modified experience for viewers using ad blockers

Wikia is not accessible if you've made further modifications. Remove the custom ad blocker rule(s) and the page will load as expected.