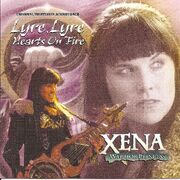 The Xena Rap was written for the XWP musical episode "Lyre, Lyre, Hearts on Fire". It is available on the Varese Sarabande recording XWP Soundtrack Volume Five.
Cast and Credits
Edit
DRACO
The name's Draco
Gimme my props
'Cos I'm the G where the music stops
XENA
I'm da' baddest mamma jamma
Dis side of Thrace
DRACO
Yo' 'xpression gonna change
when I'm in yo' face
'Cos I'm the baddest rappa' 'deh is
An' you the saddest 'deh is
And dat's tha way it is
XENA
Betta keep it on the real tip
'Cos you gotta admit -
Dis bitch got game! Yea
Dis bitch got ... game!
DRACO
It's time to face the Funk
Blastin' at 'cha
Ya' betta' give it up 'cos you
Ain't gonna match my rhymes
XENA
Seems like old times
When ya' be trippin' in yo' own stuff
Didn't know what up!
DRACO
I'm the number 1 warlord
King o' tha Horde
XENA
Let's get it on
'Cause I'm gettin' bored
DRACO
Look up, yo home girl's
Ripe for the kill
'Cos if I can't have her
Nobody else will
Rap Three
Edit
XENA
You just a copycat
Dat's where yo' head is at
You chase the riddum
From a place you was neva at
DRACO
Ain't nobody told you dat
Payback's a mutha?
XENA
Heads up, my brutha'
'Cos here comes anutha fo' ya'
Pow!
DRACO
Ya' tried to set me up
Now what cha' gonna do?
XENA
Ain't gonna lose no sleep
When I waste you!
DRACO
Ya think ya get off
Playin' me like a clown
Den ya' trippin'.
Dis time Xena
Ya' goin' down!
Ad blocker interference detected!
Wikia is a free-to-use site that makes money from advertising. We have a modified experience for viewers using ad blockers

Wikia is not accessible if you've made further modifications. Remove the custom ad blocker rule(s) and the page will load as expected.