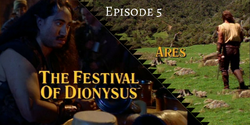 Episode 5 of the Legendary Journeys Podcast is now live! This week, Scott and Beth discuss two episodes which introduce Ares, God of War, as a villain; "The Festival of Dionysus" and "Ares".
You can now subscribe to the podcast on iTunes or Stitcher. Please subscribe, rate, and review to help more people find us!
As always, please feel free to leave comments or questions on our Facebook page or chat with us on Twitter.
This month, we are reading The Empty Throne in our book club over on Goodreads.