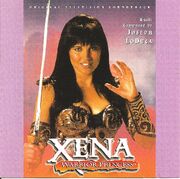 The Gauntlet was written by Joseph LoDuca for the HTLJ episode of the same name. It is available on the XWP Soundtrack Volume One.
Pozora ia izgori povetche
Ot hiliada udara
Tova rasbi duha I
Tova koeto ne moge
Da ia ubie
Ia pravi po silna, po silna
Disgrace burns more
Than a thousand blows
It shatters the Spirit
And suffocates the mind.
Can faith be born of ashes
And grow to fight another day?
What doesn't kill her makes her stronger
The Warrior Princess stands again.
Ad blocker interference detected!
Wikia is a free-to-use site that makes money from advertising. We have a modified experience for viewers using ad blockers

Wikia is not accessible if you've made further modifications. Remove the custom ad blocker rule(s) and the page will load as expected.