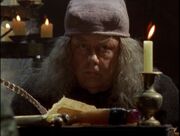 Senticles was a famous toy maker who became a scribe to King Silvas. He created a sculpted wooden lamb toy that was Gabrielle's favourite as a child. Xena purchased a replacement as a Solstice gift for Gabrielle. Gabrielle later gave the lamb to her daughter, Hope. Senticles bravely assisted Xena and Gabrielle in their plans to teach Silvas the true meaning of Winter Solstice.
Appearances
Edit
Background
Edit
Senticles was played by Joe Berryman.
Ad blocker interference detected!
Wikia is a free-to-use site that makes money from advertising. We have a modified experience for viewers using ad blockers

Wikia is not accessible if you've made further modifications. Remove the custom ad blocker rule(s) and the page will load as expected.