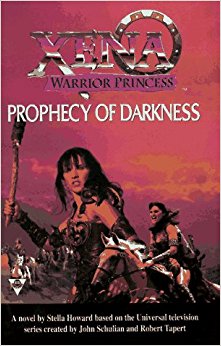 Publisher's summary
Edit
Summoned mysteriously to a small town, Xena, the Warrior Princess, and her apprentice, the bard Gabrielle, are confronted with a startling and disturbing prophecy—the end of the world is coming . . . and they have scant time to stop it.
Under the guidance of a young seer, Alesandra, Xena and Gabrielle depart for a mythical locale called Avernus, where they hope to find the magician at the center of the prophecy. But with the mystical realms working against them, will they reach Avernus in time?
Based on the hit television series, Xena: Warrior Princess, created by John Schulian and Robert Tapert, Prophecy of Darkness continues the story of Xena and her trusted companion, Gabrielle, as they fight to protect the innocent and to redeem Xena's troubled past.
This article is a stub, or very short article, that is most likely incomplete and needs expansion.
Background Information
Edit
Memorable Quotations
Edit
TO BE ADDED
Appearances
Edit
Ad blocker interference detected!
Wikia is a free-to-use site that makes money from advertising. We have a modified experience for viewers using ad blockers

Wikia is not accessible if you've made further modifications. Remove the custom ad blocker rule(s) and the page will load as expected.