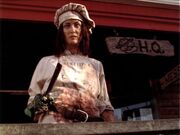 Norma Bates posed as a cook at Camp WannaChuck but was in reality a member of Studio Security. She was undercover, searching for a leak in the studio who turned out to be B.S. Hollinsfoffer who was in disguise as Sunny Day.
Appearances
Edit
Background
Edit
Norma Bates was played by Tamara Gorski
The name Norma Bates is a reference to Norman Bates' mother from Alfred Hitchcock's "Psycho" (1960).
Whenever Bates appears on screen, Hera's theme music can be heard.
Ad blocker interference detected!
Wikia is a free-to-use site that makes money from advertising. We have a modified experience for viewers using ad blockers

Wikia is not accessible if you've made further modifications. Remove the custom ad blocker rule(s) and the page will load as expected.