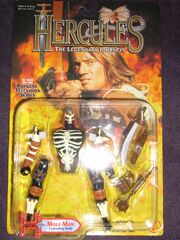 The Mole-Man is part of Wave Two of the HTLJ 5 inch action figure line by ToyBiz. His arms and legs detach from the torso when you press a skull-shaped button on his chest. He also comes with a removable belt from which you can hang his curved sword or spiked-mace accessories. The Mole-Man is based on the Lead Bounty Hunter as he appeared in HTLJ "The Road to Calydon"
Ad blocker interference detected!
Wikia is a free-to-use site that makes money from advertising. We have a modified experience for viewers using ad blockers

Wikia is not accessible if you've made further modifications. Remove the custom ad blocker rule(s) and the page will load as expected.