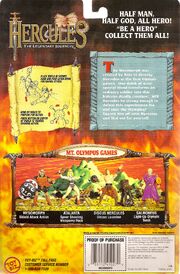 The third wave of the HTLJ ToyBiz action figure line was called "MT. Olympus Games." All of the figures were representations from the HTLJ episode "Let the Games Begin."
The Mesomorph figure comes with a spring loaded shield. Winding it up and releasing it allows it to spin creating the "shield attack action."
Ad blocker interference detected!
Wikia is a free-to-use site that makes money from advertising. We have a modified experience for viewers using ad blockers

Wikia is not accessible if you've made further modifications. Remove the custom ad blocker rule(s) and the page will load as expected.