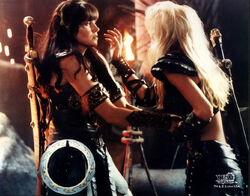 "Sacrifice: Part 2" is the third season final. Hope takes the form of Gabrielle and joins forces with Ares to create a race of superbeings. Hope denies Callisto her wish to die until Dahak is released onto the World and so, in her anger joins Xena and Gabrielle.


Mullets, Amazons, and Morphs, oh my!

Episode 1 of the Legendary Journeys Podcast is now available! …

Read more >

Our Legendary Journeys Podcast has launched! Episode 0 is available today. In this episode, Beth a…

Read more >
Ad blocker interference detected!
Wikia is a free-to-use site that makes money from advertising. We have a modified experience for viewers using ad blockers

Wikia is not accessible if you've made further modifications. Remove the custom ad blocker rule(s) and the page will load as expected.