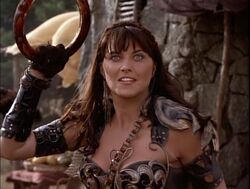 Xena, a warrior princess forged in the heat of battle, fights to redeem herself for the atrocious sins she committed in her youth. Redeemed by Hercules, Xena travels the world with Gabrielle, fighting injustice wherever it is found.

Hi All,

We're starting a Legendary Journeys Book Club! Join us over on Goodreads. We'll read one boo…

Read more >

Hi All!

I've created a new Facebook group for the Wiki! Please visit at Legendary Journeys: Hercules…

Read more >
Ad blocker interference detected!
Wikia is a free-to-use site that makes money from advertising. We have a modified experience for viewers using ad blockers

Wikia is not accessible if you've made further modifications. Remove the custom ad blocker rule(s) and the page will load as expected.