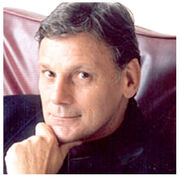 Jeffrey Thomas was born in Wales, UK.
Thomas starred as Jason in 15 episodes of Hercules: The Legendary Journeys: "Once a Hero," "The Wedding of Alcmene," "Not Fade Away," "Surprise," "Hercules on Trial," "Medea Culpa," "Armageddon Now," "Porkules," "Twilight," "Top God," "Reunions," "Let There Be Light," "Redemption," "We'll Always Have Cyprus," and "The Academy."
He also played Bellicus in HTLJ's "Gladiator" and Cycnus in XWP's "Chariots of War."
He also had another starring role as Titus as on Spartacus: Gods of the Arena alongside Lucy Lawless]].
Ad blocker interference detected!
Wikia is a free-to-use site that makes money from advertising. We have a modified experience for viewers using ad blockers

Wikia is not accessible if you've made further modifications. Remove the custom ad blocker rule(s) and the page will load as expected.