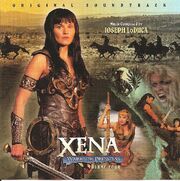 I'm in Heaven was written and performed for the XWP episode "If the Shoe Fits". It is available on the Varese Sarabande album XWP Soundtrack Volume Four.
Cast and Credits
Edit
MALE
When I look at you my eyes begin to bloom
My heart begins to zoom and I'm in Heaven
FEMALE
When I dance with you my head sails to the moon
My feet sing out a tune and I'm in Heaven
BOTH
Nobody has ever made me feel quite like this
MALE
My palms perspire
FEMALE
My stomach churns
BOTH
I know this must be bliss
There's not a sweet angel face that I've been dreaming of
MALE
I'm in Heaven
CHORUS
He's in Heaven
BOTH
When I'm with you I'm in Heaven
Ad blocker interference detected!
Wikia is a free-to-use site that makes money from advertising. We have a modified experience for viewers using ad blockers

Wikia is not accessible if you've made further modifications. Remove the custom ad blocker rule(s) and the page will load as expected.