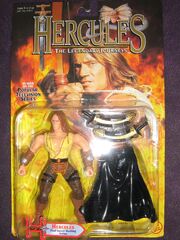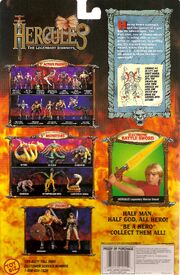 From Wave Two of the HTLJ ToyBiz action figure line. Where the previous Hercules figures had removable cloth tunics and painted on pant texture this one had sculpted clothing. This figure comes with two swords, both of which have removable sheaths which can be clipped on to Hercules' thighs. You can put the swords in their sheaths, clip the hilts into Hercules' hands and squeeze his legs together to spin his wrists, thus drawing the swords for action. This figure also comes with a removable plastic cloak.
Ad blocker interference detected!
Wikia is a free-to-use site that makes money from advertising. We have a modified experience for viewers using ad blockers

Wikia is not accessible if you've made further modifications. Remove the custom ad blocker rule(s) and the page will load as expected.