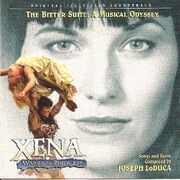 Hate is the Star (Song of the Torment) was written and performed for the XWP episode "The Bitter Suite". It is available on the Varese Sarabande recording XWP Soundtrack Volume Three.
Cast and Credits
Edit
It begins very small
seems like nothing much at all
Just a germ, just a speck, just a grain
but the seed has been sown
and before you know it's grown
It has spread through your life like a stain
And its power will strangle your love and joy
and its hunger consumes for it lives to destroy
Hate is the star; it becomes who you are
Not the hated, but the hater has a torment that's greater
It will eat you alive, consume you and spit you out
Hate's gonna win that there's no doubt about it
Hate doesn't care who you are - Hate is the star!
Learning hate is an art, even people who are smart
can be caught, can be crushed, can be creamed
Hate has swallowed you whole
Did you think you're in control
Hate you thought, hate you spoke, hate you dreamed
All your hate gave me substance your lives are undone
It's your eve of destruction, your hatred has won!
Ad blocker interference detected!
Wikia is a free-to-use site that makes money from advertising. We have a modified experience for viewers using ad blockers

Wikia is not accessible if you've made further modifications. Remove the custom ad blocker rule(s) and the page will load as expected.