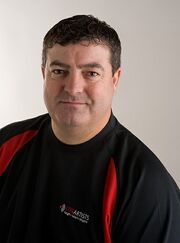 Geoff Dolan was born December 29, 1964 in Lower Hutt, New Zealand.
He appeared in three episodes of Hercules: The Legendary Journeys and one episode of Xena: Warrior Princess. He played Orenth in H:TLJ "The Lady and the Dragon," Henchman in H:TLJ "...And Fancy Free," and Head of Fashion Police in H:TLJ "Greece is Burning." His Xena appearance was as Henchman #1 in X:WP "Lyre, Lyre, Hearts on Fire." He also made an appearance in the Renaissance Pictures series Jack of all Trades.
Ad blocker interference detected!
Wikia is a free-to-use site that makes money from advertising. We have a modified experience for viewers using ad blockers

Wikia is not accessible if you've made further modifications. Remove the custom ad blocker rule(s) and the page will load as expected.