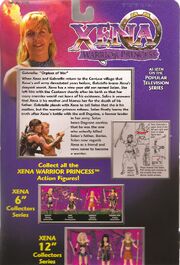 From Wave One of the ToyBiz XWP action figure line. This is Gabrielle as seen in "Orphan of War." She comes with a large assortment of weapons including her trademark staff, an Amazon dagger, an axe, and a crossbow with a quiver of arrows. The staff clips into her hands and you can swing it up and down by manipulating a lever on her back.
Ad blocker interference detected!
Wikia is a free-to-use site that makes money from advertising. We have a modified experience for viewers using ad blockers

Wikia is not accessible if you've made further modifications. Remove the custom ad blocker rule(s) and the page will load as expected.