You may also be looking for the fictionalized version of Eric Gruendemann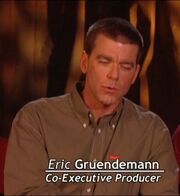 Eric Gruendemann was a producer and actor on various Xenaverse media.
Gruendemann served as unit production manager on Hercules: The Legendary Journeys and later Xena: Warrior Princess, and a co-executive producer on both shows and Young Hercules. He was credited as a producer for "The Wrong Path" and served as a full producer in several episodes of Xena: Warrior Princess.
As a performer, he appeared in three episodes of the first season of Hercules: The Legendary Journeys:
Gruendemann later directed episodes of Jack of All Trades, and was the writer, producer, production manager of the 2010 film Bitch Slap.
This article is a stub, or very short article, that is most likely incomplete and needs expansion.
Ad blocker interference detected!
Wikia is a free-to-use site that makes money from advertising. We have a modified experience for viewers using ad blockers

Wikia is not accessible if you've made further modifications. Remove the custom ad blocker rule(s) and the page will load as expected.