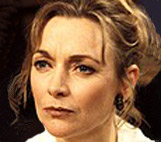 Elizabeth Hawthorne is a New Zealand actor. She played 6 characters throughout the
Xenaverse
but is perhaps best known as the second of five actors to play
Alcmene
on
Hercules: The Legendary Journeys
.
Her first Renaissance Pictures outing was as Queen Omphale in Hercules and the Lost Kingdom. Hawthorne went on to play Jocasta in H:TLJ "Rebel With a Cause" and Mary Contrary in H:TLJ "Yes, Virginia, There is a Hercules." She also voiced Hera in 4 episodes of Young Hercules (thus making her the only actress to portray both Hera and Alcmene) and played a News Reporter in X:WP "Send in the Clones."
Her final Renaissance Pictures appearance was as Voice on Cleopatra 2525.
Filmography
Edit
Underworld: Rise of the Lycans (2009) .... Orsova
"Outrageous Fortune" (2007) .... Ngaire
Jinx Sister (2008) .... Doctor - LA
Kiss Me Deadly (2008) .... Jillian
30 Days of Night (2007) .... Lucy Ikos
The Man Who Lost His Head (2007) .... Eleanor Harrison
"The Adventures of Voopa the Goolash" (2007) .... Zoozoo
The Chronicles of Narnia: The Lion, the Witch and the Wardrobe (2005) .... Mrs. Macready
Not Only But Always (2004) .... Joan Rivers
No One Can Hear You (2001) .... Pat Kelly
"Xena: Warrior Princess" (2001) .... News Reporter
"Cleopatra 2525" (2000) .... Voice
"Spin Doctors" (2001) .... Liz Brasch
Jubilee (2000) .... Charlotte Morrison
Savage Honeymoon (2000) .... Maisy Savage
Exposure (2000) .... Detective Shoorwell
This Is It (1999) .... Various historical figures
"Hercules: The Legendary Journeys" (1995).... Alcmene, Jocasta, Mary Contrary
Lawless (1999) .... Susan Ellis
"Young Hercules" (1998) .... Hera's Voice
"Greenstone" (1999) .... Caroline
The Bar (1997)
The Frighteners (1996) .... Magda Rees-Jones
"Shortland Street" (1992) .... Dr. Julia Thornton
The Beach (1995)
The Last Tattoo (1994) .... Henrietta Simpson
Jack Be Nimble (1993) .... Bernice
The Tommyknockers (1993) .... Patricia McCardle
Adrift (1993) .... Party Guest 1
Alex (1993) .... Mrs. Benton
Hot Target (1985) .... Suzanne Maxwell
"Hanlon" (1985)
Ad blocker interference detected!
Wikia is a free-to-use site that makes money from advertising. We have a modified experience for viewers using ad blockers

Wikia is not accessible if you've made further modifications. Remove the custom ad blocker rule(s) and the page will load as expected.