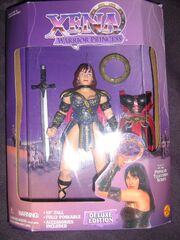 This 10 inch Deluxe Xena figure was released with XWP box art but as part of the HTLJ ToyBiz line in 1996. Xena would not get her own toy line until 1998, also from ToyBiz. This figure comes with a larger version of the sword presented with the 5 inch Xena I figure and a larger version of the chakram presented with the Xena II figure. She also comes with removable rubber armour which you can replace with a rubber "civilian" outfit.
Ad blocker interference detected!
Wikia is a free-to-use site that makes money from advertising. We have a modified experience for viewers using ad blockers

Wikia is not accessible if you've made further modifications. Remove the custom ad blocker rule(s) and the page will load as expected.