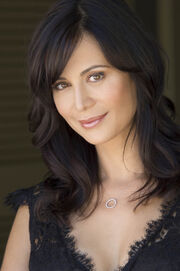 Catherine Bell was born in London, England on August 14, 1968. She moved to California when she was two years old and has lived there since.
Catherine played Cynea in the H:TLJ episode "The Lady and the Dragon." This was her only appearance in the Xenaverse. She is perhaps best known for her portrayal of Lt. Col. Sarah MacKenzie on the television series J.A.G.
Ad blocker interference detected!
Wikia is a free-to-use site that makes money from advertising. We have a modified experience for viewers using ad blockers

Wikia is not accessible if you've made further modifications. Remove the custom ad blocker rule(s) and the page will load as expected.