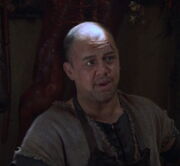 Bruce Burfield played four characters in the Xenaverse.
He played Velasarius in H:TLJ "The Lady and the Dragon," he played Prisoner in H:TLJ "Stranger in a Strange World," he played Midicus in YH "Keeping Up with the Jasons," and finally, he played Inebriated Patron in X:WP "Looking Death in the Eye."
Burfield also appeared on the Renaissance Pictures series Jack of All Trades and Cleopatra 2525.
Ad blocker interference detected!
Wikia is a free-to-use site that makes money from advertising. We have a modified experience for viewers using ad blockers

Wikia is not accessible if you've made further modifications. Remove the custom ad blocker rule(s) and the page will load as expected.