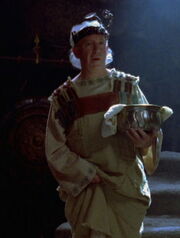 Andrew Glover made five appearances in the Xenaverse.
He began as Crowdmember in Hercules in the Maze of the Minotaur. Next, he played Man #2 in XWP "The Quill is Mightier..." In HTLJ "Long Live the King," he played Illegibus and in HTLJ "If I Had a Hammer..." he played a Farmer. Finally, he played Thief in HTLJ "Norse by Norsevest."
Ad blocker interference detected!
Wikia is a free-to-use site that makes money from advertising. We have a modified experience for viewers using ad blockers

Wikia is not accessible if you've made further modifications. Remove the custom ad blocker rule(s) and the page will load as expected.